Message from Chairperson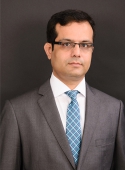 The "BS Accounting & Finance" program is run by the "Department of Accounting & Law" at the Institute of Business Administration, Karachi with the active support of other departments. The program has been able to garner interest in a very short time due to its active collaboration with professional accounting bodies such as Institute of Chartered Accountants of Pakistan (ICAP), and the Association of Chartered Certified Accountants (ACCA). The program is delivered by highly qualified faculty having extensive experience of working in industry and practice, both inside and outside Pakistan.
We are very pleased that a graduate from first batch, Muhammad Hassan, has successfully cleared all ICAP examinations within 2 years and 8 months - in his first attempt. The fact that very few can achieve this feat within their CA training periods show that curriculum and assessment methods followed at IBA are of the highest standards.
Haroon Tabraze, FCA
Chairperson, Accounting & Law